"A gorgeous site…"
Glebe Farm is set in the beautiful village of Astbury on the outskirts of Congleton, Cheshire. In the backdrop is the historic church of Astbury St Mary's. The farm takes its name from medieval times where a Glebe was land used to support a parish priest.
In 2010 Glebe Farm Shop opened its doors selling home grown and local produce. The coffee shop followed shortly afterwards. The farm continues to expand and recent additions include a Butchers shop, children's petting area and playground, retail units (yoga, dog grooming, hairdresser and fresh fish counter to name but a few) and tractor rides.
At Glebe Farm there is something for everyone – whether it is to stock up on supplies, enjoy a coffee and a tasty treat, (great English breakfasts by the way!) feed the animals, get some retail therapy or to just enjoy a wander if you need a break from the music.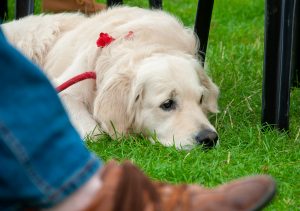 Those who are thinking of bringing dogs there is a public footpath that runs right through the site, leading way out over the cheshire countryside, providing a convenient, pleasant  and safe way to exercise your dog (and you of course!).  There are no restrictions regarding dogs other than a requirement to respect the rules of common courtesy and care around farm livestock.
Check out the video from  2018 to get an idea of the layout of the site and also what goes on during the music camp.
http://www.glebefarmastbury.co.uk
The campsite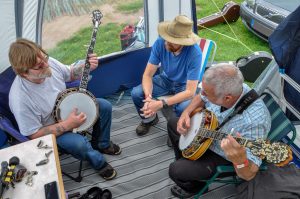 The campsite is located in a large field just a two minute walk from the Glebe Farm Shop/complex. It has a small convex curve in the middle with a slight slope from top to bottom, so it is advisable to bring levellers etc just in case.  Due to the limited amount of space stewards will help you find a spot.There is a  toilet block with real toilets, fresh water supply and a chemical waste disposal point. There will also be an accessible toilet of the Portaloo type.  Limited hot shower facilities and toilets are available in the Glebe Farm Shop complex.
There are currently no hook-ups available (unless required for medical purposes).
(Update: There may be a few electrical hookups available at extra cost – please ask on arrival)
The large marquee  will be set up on the main camping field. It will sport a fully equipped real ale bar. High quality hot food will be available every day for the duration of the event.