Harmony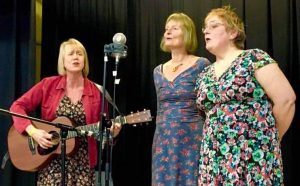 Issy Howie and Jane Foggin
Issy as been singing harmony since childhood – singing Beatles, John Denver and cowboy songs with her parents around camp fires, then singing in choirs and pub sessions.
Over the past two decades she has been perfoming close harmony old time county and bluegrass music, with her trio of harmonisters 'The Outlaw Sisters and with partner Bob as 'On the Back Porch'.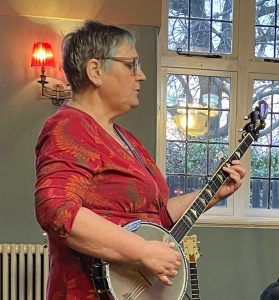 Jane has a long history in folk, gospel and roots harmony singing, performing in the Outlaw Sisters, and previously in the Backyard Buskers. Expect warmth and fun as they explore the unique buzz of close Bluegrass and old time harmony singing.  
Check out the Outlaw Sisters on Fb and Bandcamp https://outlawsisters3.bandcamp.com
Mandolin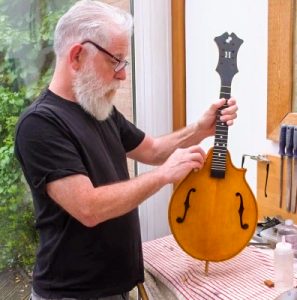 Chris Pritchett played guitar in a wide variety of styles for over 40 years before being seduced by the mandolin and Bluegrass music. He attended his first Sorefingers summer school in 2014 and since then has spent his retirement playing teaching and building the mandolin and other mandolin family instruments. Whilst still playing in a wide variety of styles, over the last few years, Chris has developed a particular interest in applying the mandolin to swing and jazz music and exploring the wider harmonic possibilities of the instrument. Currently playing with the quartet 'String Driven Swing' his influences include Jethro Burns, David Grisman, Mike Marshall, and Don Stiernberg.
Clawhammer Banjo & Dobro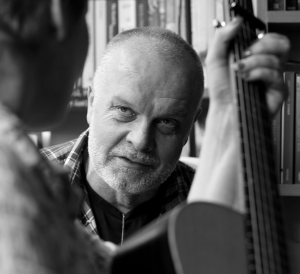 Bonz Barnes has been singing and playing in wide variety of bands for over 50 years, including folk, bluegrass, old time, blues, country, western swing, and rock'n'roll, and is an experienced teacher on a number of instruments.
On clawhammer banjo he will be focussing on combining chords and melody and how best to  accompany singing and other instruments.
For the dobro, don't expect bluegrass. Could be blues, could be swing, could be Rock&Roll, could be country. Could be different.
Fiddle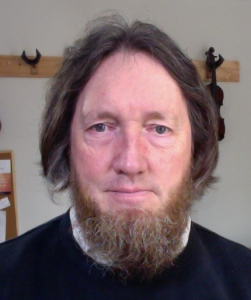 Richard Partridge is a freelance teacher of violin, viola, ukulele and double bass, working in schools and privately in the tri-county corner of West Suffolk, South Cambridgeshire and North Essex. As a bluegrass player he is probably best known as the fiddler for Monroe's Revenge. He has played with many other bluegrass/old-time/Americana outfits, including the Kitty Hawks, the Morris Boys, the One Tree Hillbillies, the New Essex Bluegrass Band and the Mounthoolies. He also plays bass for Jolene Missing & Friends. He has taught bass and fiddle courses at Sore Fingers Summer School
Bluegrass Banjo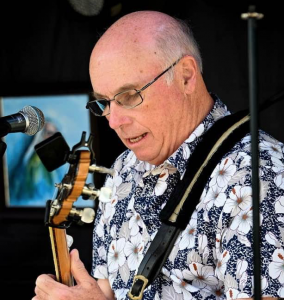 Kevin Shannon has played banjo for 20 years and currently runs Helsby Bluegrass  Club (held every Thursday for the last 30 yrs)
Playing in the band "Run For Cover" he is keen to show off the  versatility of the instrument in a variety of musical styles. He also  has a number of 'eye-catching' shirts and is now the proud owner of a  Titanium & Brazilian Rosewood banjo.
Guitar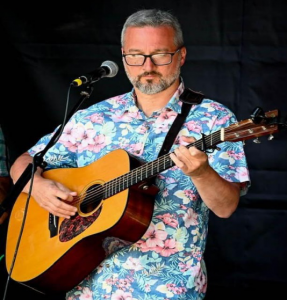 Self-taught, Tony Kidd has been playing guitar for a little over nine years has recently joined the band Run For Cover and is a regular at the Helsby Bluegrass sessions.
Tony is able to offer no nonsense practical advice designed to improve your guitar picking.
Double Bass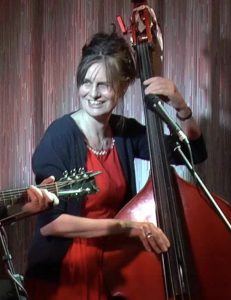 Helen Hutchinson sang, played guitar, bass and banjo with several bluegrass bands including Cowbaby and Catfish Skillet. She also played bass with the Bapchilds and featured a few times as the resident bass player in Andy Kershaw's kitchen sessions before encountering some Django guitarists in her local pub and joining their band. These days she is continually learning bass gigging with the Hot Club of Halifax.
Beginners Ukulele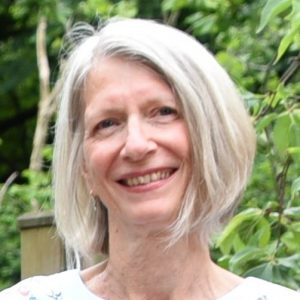 Jo Bishop is a well known face at Bluegrass and Beyond where she has impressed everyone with her enthusiasm, her vocal talents and her compering ability. This year she is showing yet another aspect of her many abilities by leading a beginners class in ukulele.
(Pedant that I am, I agonised over using an apostrophe with the word "beginners". I concluded that it was a class for many beginners, and not belonging to them, hence no apostrophe.  It's probably wrong… Ed.) 
Stagecraft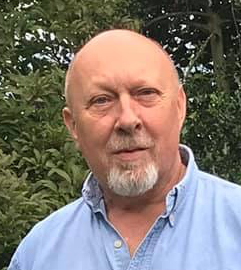 Geoff Berrow played bass with The Slippery Hill Boys and, along with Andy Anderson, and was part of the team that put on the first bluegrass festival at Glebe farm back in 2015. He has been involved with live performance for more years than he cares to mention from working men's clubs to male voice choir, musical theatre to bluegrass.
Geoff is currently involved in several musical projects including contemporary Folk/Pop/Americana trio, Dawson Dean .
Guided Walk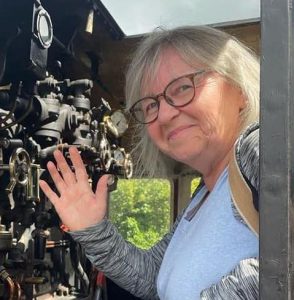 Jeanette McGlynn is an experienced walker who has led many walks and who currently leads a regular walk for the Beth Johnson Leisure Association. Jeanette will be offering an alternative to music by leading a gentle guided walk around the beautiful Cheshire countryside surrounding Glebe Farm